DOWNLOAD NEW PATIENT FORMS
Thank you for choosing Dr. Sadineni, at Dublin Metro Dental for your dental health needs. For your convenience, please download new patient forms for you to fill out and email it to smile@dublinmetrodental.com or bring it with you at your first appointment.
This means less waiting, and more attention on what matters most: your dental experience! Let us know if there is anything else we can do to make your visit relaxing and comfortable. We look forward to seeing you!
We reserve time exclusively for each patient, so please be on time to your appointment. We ask that you do not change your appointment. Broken appointments incur a fee of $50 per scheduled hour.

Our Mission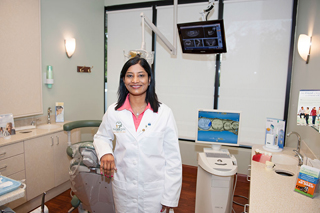 Dr. Aparna Sadineni and her staff are committed to providing patients with excellent personalized dental care in a safe and comfortable environment. That's because we believe in keeping teeth – for a lifetime! The trust our patients place in us is the highest compliment we can receive.
Dr. Sadineni's outstanding credentials, advanced training and extensive experience, and her warm and caring manner, ensure that you will receive the exceptional results you expect and the individualized care you deserve. For patients wanting gorgeous smiles, Dr. Sadineni provides comprehensive dental care, including porcelain veneers, crowns, bridges, dental implants, Invisalign and smile makeovers.