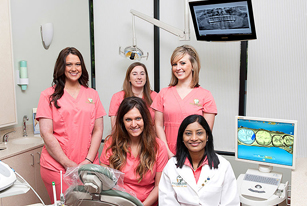 Restore Your Smile in One Appointment with CEREC Crowns
Dr. Sadineni, Dublin, Ohio, Dentist offers CEREC one-visit crowns. She performs variety of dental restoration procedures in one visit to her office, including: Crowns, Veneers, Onlays and Inlays. A crown can help restore a badly decayed or injured tooth, easing discomfort and revitalizing your smile. Porcelain crowns cover the entire tooth, helping to improve both the appearance and strength of your tooth.
CEREC employs 3D scanning to capture a digital image of your tooth and then craft a crown that matches the shape, size, and shade of your tooth in one convenient appointment. No need to wear a temporary crown, which may break or fall off and no need to make any messy impression which would go to a lab. Dr. Sadineni CEREC Dentist Dublin Ohio can prepare and place the CEREC crown in just one office visit, restoring health and strength to your tooth, quickly and conveniently.
To schedule an appointment for a porcelain crown, contact Dublin Metro Dental today.