Why Choose Dr. Sadineni As Your Dentist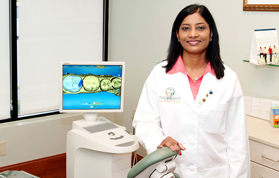 Advancing the dental care of patients in Dublin, Powell, Hilliard, Upper Arlington and Columbus is Dr. Sadineni's goal. She and her staff pride themselves in providing patients with the best and most advanced that dentistry has to offer, in a caring and compassionate way. Dr. Sadineni takes time to get to know her patients in order to fulfill their individual needs.
In today's fast-paced society, it isn't always easy for patients to find time for dental appointments. Dr. Sadineni, who specializes in family and cosmetic dentistry, is available at her Dublin office in the early morning and evening for your convenience. Her office also is fully computerized which provides prompt processing and complete confidentiality of your records.
And because patient well-being is a foremost consideration, Dr. Sadineni has a firm policy of referring patients to other professionals when the patient's condition warrants more specialized treatment.
Dr. Sadineni and her staff look forward to meeting you, getting to know you, and working with you for many years to come.