Preventive Dentistry
Dr. Sadineni and her staff are proud to offer dental treatment to patients of all ages, especially children. The best way to prevent dental problems in later life is childhood treatment.
Pediatric dentistry requires a gentle hand and a friendly, fun approach to dental health. Among the many services we provide are:
Dental Care for Infants
Dental Care for Children Ages Two to Six
Dental Care for Children Ages Seven to Twelve
Dental Care for Adolescents
Dental Care For Infants
Baby teeth may be temporary, but they are very important to your child's health. For proper chewing, biting, speech and appearance, infant teeth need special care. Set the foundation for a winning smile and good dental health by wiping your baby's teeth with a soft, moist cloth. As your child grows more teeth, you can begin brushing with a soft tooth brush intended for children. If you choose to use fluoride toothpaste, use only a small amount. Too much fluoride can stain teeth.
Dental Care for Children Ages Two to Six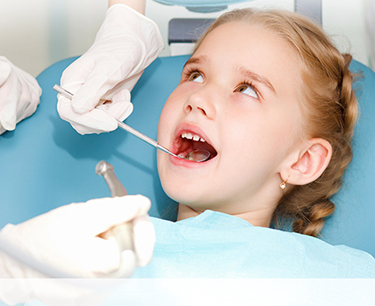 Children should be taught to brush their own teeth around ages two or three. Parents can help their children establish daily tooth brushing routines by brushing at regular times each day. Because new brushers are not always thorough, parents should ensure no areas are missed.
Around age three, your child is ready for his or her first visit to the Dublin Metro Dental Group. Dr. Sadineni will gently examine the child's teeth and gums. She also may take digital X-rays to be certain that your child's teeth are growing properly.
Thumb-sucking should be discouraged if it continues past age four. This habit can cause crooked teeth and malformation in the roof of the mouth. Thumb-sucking affects speech and the position of the jaw as the child grows.Dental Care for Children Between Seven and Twelve.
Dental Care for Children Ages Seven to Twelve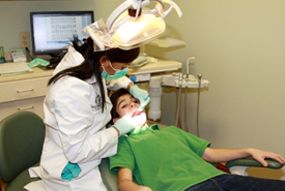 Now is the time to prepare for any orthodontic treatment your child requires. Timing is very important in this process.
Dr. Sadineni can determine if orthodontic care is required and help you to choose a financing option that will bring a smile to you and your child.
Dental Care for Adolescents
Teens often lose motivation to brush, resulting in gum disease and other dental problems. For this reason, it is especially important that regular dental checkups be scheduled.