Cosmetic Dentistry Options – In Columbus, Dublin, Powell Ohio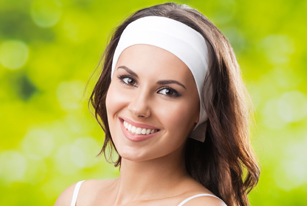 When was the last time someone complimented you on your smile? Having a smile you love can be a tremendous boost to your self-esteem and confidence. When you are pleased with your smile, you are more likely to show it, and that's something people notice. Smiling frequently conveys friendliness, warmth, and approachability. So, if you're unhappy with your smile, now is the time to do something about it!
Cosmetic dentistry is the combination of art and science, a symbiosis only achieved by a dentist with exceptional training, experience, and skill. In addition, an exemplary cosmetic dentist is the one who is committed to creating customized treatment plans for each patient and concentrating on the smallest details, with the goal of achieving the most natural-looking results. Dr. Sadineni is a AACD Accredited Member of the American Academy of Cosmetic Dentistry, one of the most prestigious organizations in the world.
Your treatment would address and correct any imperfections that we discovered together including discolored and stained teeth, cracked teeth, fractured or broken teeth, missing teeth, misaligned or crooked teeth, short looking teeth, worn down teeth, teeth weakened by large fillings, noticeable silver fillings, unsightly spaces between teeth, and aged looking teeth. The end result will be a smile that meets your needs and goals and one that you can be proud of.
This would likely involve a combination of cosmetic dentistry and restorative procedures that might include any of the following:
If you would like more information on the cosmetic dentistry procedures we offer, or if you would like to schedule a consultation with Dr. Sadineni, please contact us today.