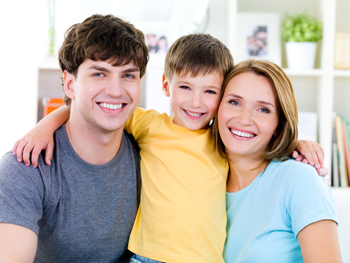 Tooth-colored fillings are undeniable proof that science can be artfully applied to cosmetic dentistry. No longer you will feel uncomfortable with gold and silver amalgam fillings. Now you can smile with confidence as you show off your perfectly blended tooth-colored fillings.
Tooth-colored fillings are made from composite resins that are bonded to your teeth, forming a tight seal. This seal prevents bacteria from attacking your teeth, helping teeth to stay healthy and decay-free. Tooth-colored fillings also can prevent hot and cold sensitivity, as well as biting pain. Additionally, tooth-colored fillings require less of your tooth to be removed, so you can keep more of your natural tooth structure.
Any decay is removed from the affected tooth before applying the tooth-colored filling in a series of layers. A special light is used to harden the resin after which time the filling is shaped and polished for a natural look and feel.
Tooth-colored fillings are practically undetectable, easy to apply, and usually require only one visit. Want to learn more? Call Dublin Metro Dental today!
Partial Crowns, Inlays, & Onlays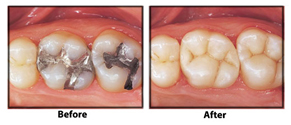 Art and science come together to create long-lasting, natural partial crowns called inlays and onlays. Similar to fillings, inlays and onlays fill cavities and other areas of trauma or tooth decay.
Inlays are among the most conservative approaches to restorative dentistry. They are a strong, durable material made outside the mouth to replace part of a tooth, which are then cemented or bonded into place. An inlay fits like a puzzle piece into the tooth. If one of the points, or cusps, is also replaced, this is called an onlay.
If the part of the tooth to be restored is greater than a filling, inlay or onlay can accommodate, a crown is recommended. Unlike regular fillings, which are composed of a soft material that is molded into the tooth, indirect porcelain fillings are generally shaped in a dental lab and then firmly cemented into place during a later visit to the dentist office.
If you are interested in finding out more about partial crowns or our longest-lasting inlays or on lays, please contact our office Dublin Metro Dental today!