Custom Fit Sport Mouth Guards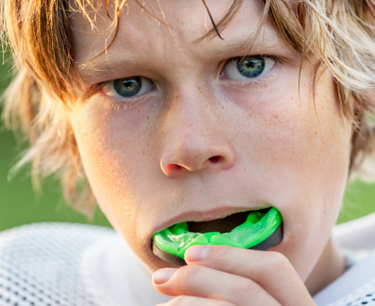 Custom mouth guards have the most perfect fit, which makes it easier to keep them in place to provide optimum protection and improved performance. The fit and size of the mouth guard will be checked by Dr. Sadineni and team for each patient. These mouth guards stay in place while breathing and talking, and since they are comfortable to wear the athlete is more likely to wear it. The sides are extended as far as possible to allow comfort and maximum protection. The thickness of the mouth guard is dependent on the sport and the age of the player.
Can I Wear a Mouth Guard if I Wear Braces?
Yes. Since an injury to the face could damage braces or other fixed appliances, a properly fitted mouth guard may be particularly important for people who wear braces or have fixed bridge work. Dr. Sadineni, Dublin Ohio Dentist can determine the mouth guard that will provide the best protection for your unique mouth work. An important reminder: do not wear any orthodontic retainers or other removable appliance during any contact sports or during any recreational activities that put your mouth at risk for injury.
How Do I Care for My Mouth Guard?
To care for your mouth guard:
Rinse your mouth guard with cold water or with a mouth rinse before and after each use and/or clean it with toothpaste and a toothbrush.
Occasionally clean the mouth guard in cool, soapy water and rinse it thoroughly.
Place the mouth guard in a firm, perforated container to store or transport it. This permits air circulation and helps to prevent damage.
Protect the mouth guard from high temperatures — such as hot water, hot surfaces, or direct sunlight — to minimize distorting its shape.
Occasionally check the mouth guard for general wear. If you find holes or tears in it or if it becomes loose or causes discomfort, replace it.
Bring the mouth guard to each regularly scheduled dental visit to have your Dublin Metro Dental staff exam it.
Dr. Sadineni and team at Dublin Metro Dental can create you the custom fit, custom colored/designed mouth guard for your sport. Contact us today for more information.