Straighten Your Teeth And Enjoy A Better Smile Every Day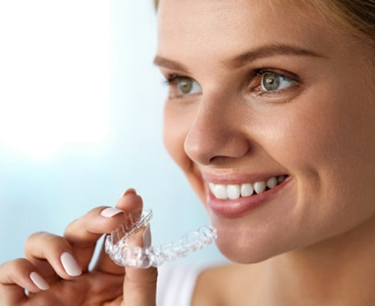 Whether it's in a business presentation, or just an evening out with friends, you know that being self-conscious about your teeth will only restrict you from being yourself.
Many times, adults do not feel comfortable wearing traditional orthodontic braces to straighten their teeth. Now, patients can get a beautiful, straight smile without suffering with traditional orthodontia. Using the Invisalign system, Dr. Sadineni at Dublin Metro Dental Group can give you great teeth straightening results, often in less time and about the same cost as traditional metal braces.
Invisalign treatment could benefit you in many ways: straightened teeth and a beautiful smile in a reasonable amount of time, no feelings of self-consciousness during treatment with the nearly invisible aligners, and minimal impact on your busy schedule.

When you visit Dr. Sadineni, Dublin Ohio Dentist, she will take an impression of your teeth to create Invisalign aligners that fit in your mouth and are customized to your teeth. Invisalign aligners are removable, so you can take them out to eat, drink, or for special occasions. The great thing about Invisalign is that it is invisible, so others won't be able to see that you are wearing your aligners. The edges of your aligners will be smooth, so they will be comfortable to wear and won't irritate your gums.
And while many adults look at straightening their teeth for cosmetic reasons, it's important to know that straighter teeth and a proper bite can be beneficial to your overall periodontal health. You'll realize that a perfect smile extends far beyond good looks.